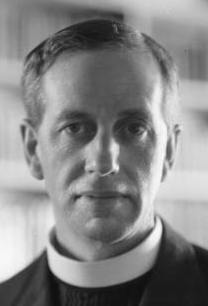 The Ronald Knox Society of North America is a literary society dedicated to Msgr. Knox and his literary accomplishments. We count ourselves indebted to Msgr. Knox and therefore seek to make others aware of the vast mine of spiritual and literary treasures available to them. Welcome to our website!
Mary of Holyrood may smile indeed,
Knowing what grim historic shade it shocks
To see wit, laughter and the Popish creed
Cluster and sparkle in the name of Knox.
- G.K.Chesterton
---
Ronald Arbuthnott Knox (1888 - 1957)
During the first half of the 20th century, when there was a flood of notable English converts to the Faith, perhaps none was as notable as Ronald Knox. Scholar, priest, confessor, orator, and prolific writer of both fiction and nonfiction, it can justifiably be said that Msgr. Knox was the most important English Catholic since John Henry Cardinal Newman.
Ronald Arbuthnott Knox was born in Leicestershire England in 1888. The son of an Anglican bishop, he attended Oxford and quickly established a reputation for scholarship. In addition to serving as editor of the undergraduate newspaper, he effortlessly wrote verse in Latin and Greek.
Influenced by the writings of Robert Hugh Benson, by the age of 16 Knox had gravitated to the Anglo-Catholic branch of the Church of England. He became an Anglican minister in 1912, though the path to Rome would not be long in coming.
By the time he entered the Church in 1917, Knox had already established himself as a serious apologist for the Faith. His book Some Loose Stones (1913) was a response to some Modernist speculations at the time. After his ordination in 1919, Knox entered into his most fertile period of apologetical writing. Notable were The Belief of Catholics (1927), aimed at the lightly churched as well as Protestants, and Broadcast Minds (1932), wherein he refutes the assumptions of modern thinkers such as atheists H.G.Wells and Bertrand Russell.
Significantly, Knox's effect on the field of apologetics did not end with his own writings. He had a direct and profound influence on some of the Church's greatest 20th century defenders as well. One of these, ironically, was G.K.Chesterton, who had greatly influenced Knox in his youth. Now it was the younger Knox who played a key role in Chesterton's final step into the Catholic Church in 1922.
But perhaps the most famous of Knox's "catches" was that of Arnold Lunn. A contemporary of Knox, Lunn was an agnostic throughout his early life until a fateful collaboration resulted in the book Difficulties (1932). The book was written in a correspondence format wherein Lunn would attack Catholic doctrines and Knox would defend them. The result was that a year later Knox received Lunn into the Church.
At the time of Lunn's conversion, Msgr. Knox was the chaplain of the Catholic students at Oxford. He therefore decided to end the controversialist phase of his literary life, though he still continued to write. Among some of his works were satires and detective stories.
With the outbreak of World War II, Knox found himself in great demand as a radio personality. He also unexpectedly became the chaplain at a school for Catholic girls. It was his lectures to these schoolgirls which resulted in three of his most popular books: The Mass in Slow Motion, The Creed in Slow Motion, and The Gospel in Slow Motion.
In 1939, Knox began a nine-year project which resulted in a new English translation of the Bible. Highly praised at the time for its literary quality, it was a prime example of Knox's mastery of the English language, a style greatly admired by many, among them Evelyn Waugh.
It was one of his last works, Enthusiasm (1950), which Knox himself regarded as his greatest. In his typically balanced and charitable manner, Knox analyzes various movements throughout history, Catholic and non-Catholic, where religious emotion void of doctrine and authority has wreaked havoc. The work continues to be relevant today in an era of increased claims of private revelations.
Knox did not live to see the major changes in the Church in the 1960s, though perhaps we can catch a glimpse of what his attitude would have been by an incident late in his priestly life. When asked whether he would perform a baptism in the vernacular, he declined, replying that "the baby doesn't understand English and the Devil knows Latin."
Ronald Knox died on August 24, 1957.
Publisher's Note, Miracles, Roman Catholic Books